Me: "Can we maybe switch of the ventilator?"
"Nah! It's fine. I have a blanket."
I foolishly believed that she'd have a blanket for me. But she meant what she said. She had a blanket and I got to sleep without one.
Cousurfing Thailand shows you a different Thailand.
Couchsurfing is amazing. It makes you safe money and you have somebody to hang out with. I honestly love it. But sometime things get a little awkward. Just a little.
After leaving Kolkata I left India to travel through Thailand down to Malaysia and Jakarta. I try to manage with only couchsurfing and will do some hitchhiking to.  First stay is Bangkok, thats where it got a little awkward. But I get to stay in houses that have mango trees in their gardens, next to papayas, bananas and coconuts and right now I am writing from a palm oil farm.
Hindus and Christians believe that a guest is a appearance of god and the Buddist collect good Karma.  For many of my hosts it is obvious that they would leave their rooms to sleep on the floor so that I could have a comfortable stay. And sometimes you don't get a blanket and are not allowed to drink their water. (Disclaimer: Single case!)
Thailand is the country of "Love at first sight." Usually a white man and a Thai women half his age.
Already before I got my luggage I saw the first couple. He standing closely behind here on the escalator trying to sneak in a quick kiss and the Thai embassy has a page on their website dedicated to people 'falling in love'.  In streets of Bangkok you see mostly families and Backpackers but in the airports you can find all those 50 year old white males that come to Thailand alone or with same-minded.  Nobody can tell me they are here to play golf. On the night markets I met one man that  said: "I am here for fishing." Aha, that's how we call it know.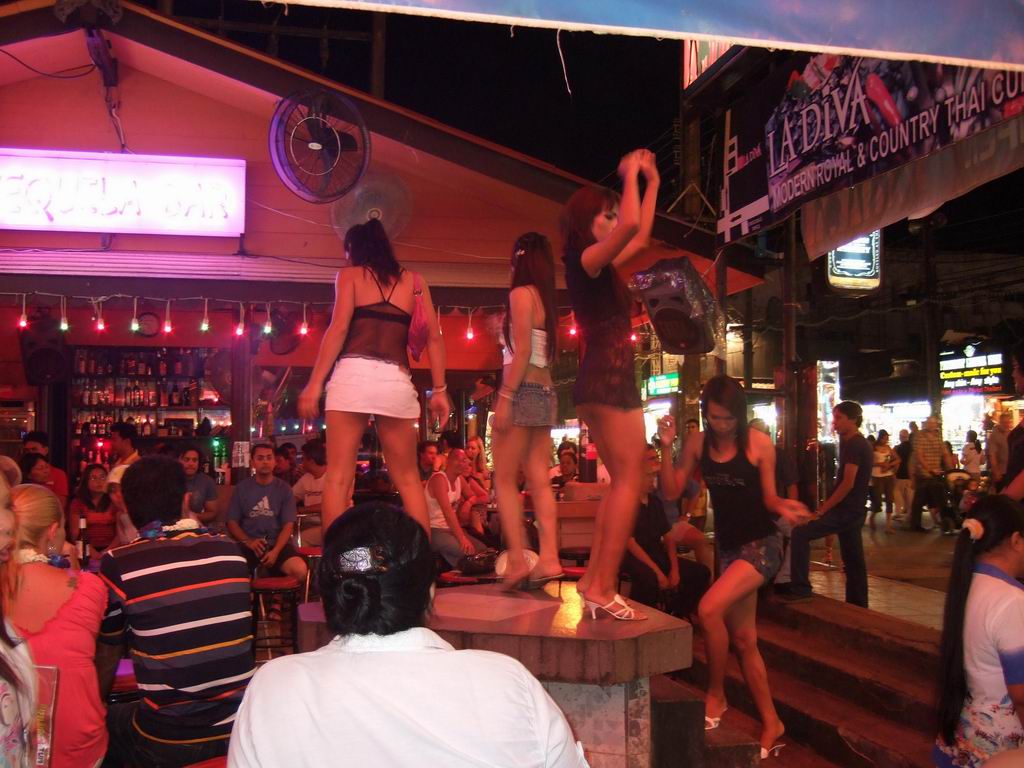 How come that a country get associated with sex? The Thai culture treats female sexiness fundamentally different to what I have seen in Germany, Holland and India. In India women can show belly, deep necks and open back, but don't you dare show shoulders or legs. The Thai school uniforms look like something you could find in India only in a sex shop. And the waitresses' dresses
start below the shoulders and end below the hips. Directly below the hips.  A women with such a dress is called slut in Germany, whilst the Thai people admire here confidence. And apparently they actually do congratulate a family to the birth of a daughter. It's some sort of asset you can  monetize in difficult times. A boy works to. But its harder. And this is only the prude Thailand. Go and find out what a Ping-Pong-Show is …
The only hotspot of German child prostitution are gypsy families in cities like Berlin. Reporters asked: "Don't they love their children?" Don't the Thai's love their children? They do. More than anything. But in life there are hard ways to make slow money and easy ways to make quick money. In one night a lady(boy) earns what a secretary earns in a week.  I never thought about how slow and hard my money will be. (If I make money one day.) But only because I can afford to wait and invest years until I can monetize my education. What happens to all those who can't live on their parents money like I do? They will find that live there are hard ways to make slow money and easy ways to make quick money. And they will have to choose quickly.
When you get bit by a dog there is huge drama, rabies, and you end up going to many hospitals.
I walked by a parking bank with a hobo on it, two dogs by his side. That cute little white one walks towards me, wagging his tail. I stand still and let him sniff, just like I was thought. He smells me, that is when they normally decide to like you, and bits me.
I call my insurances, get to a hospital, arrange treatment, medication, payment and coverage knowing I will need to do this four more times. It didn't even hurt. So know I am left to get four more injections which I will have in different cities leaving me to carefully align my travels from hospital to hospital.
The wound can't get wet. I cannot mix the antibiotics with alcohol. So I sit at the beaches of Thailand and watch beach, beer and water. I sit and watch.
Next Day. Me: "By the way, do you have a blanket for me?"
(Trying to be specific, yet casual, this time)
"Nah! It's warm."
"But, I kinda like sleeping with a blanket better."
"You don't need a blanket here."
"Why don't you give me your blanket than an sleep without on yourself?"
"Whaa! Fine! You will get one."
Mission accomplished.
Soundtrack of my life: Troye Sivan – Suburbia